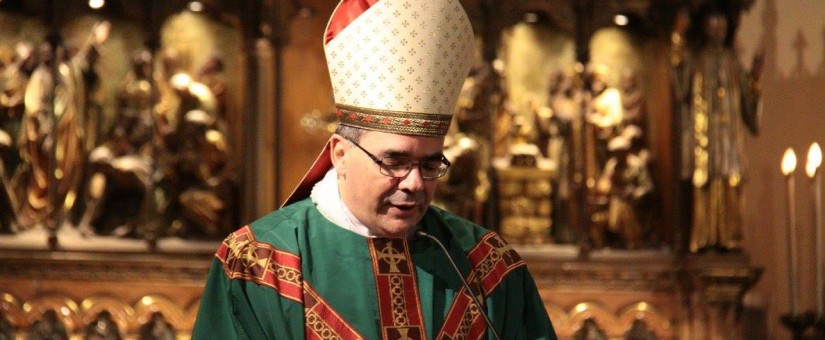 1. This solemn celebration, in which the beloved Father Samuel Otto Sidin will receive the fullness of the sacrament of Holy Orders and become the new bishop of Sintang, is certainly a cause for joy and celebration. But this joy will become real and useful, if the whole celebration is based on the motif of faith.
It is not, in fact, a simple organizational act, with which the head of a human institution begins to exert its functions. The fact that we are celebrating – in the Eucharistic liturgy – a Sacrament, we are convinced that what we are celebrating now is first and foremost the work of God, and it becomes a proof of his intervention for the good of his Church. But we can realize this reality only if we look at it with the eyes of faith that surpasses mere human criterias.
Pope Francis, in his encyclical letter Lumen Fidei, has affirmed that having faith means "seeing with the eyes of Jesus… and share in his mind" (no. 21). So, with the eyes of Jesus, we should look at what is happening now to our brother Samuel and the diocese of Sintang. And this new bishop and the whole diocese should look with this eyes of faith. Bishop Samuel should look with the eyes of faith both at himself and the mission entrusted to him by the Church, and also the faithful entrusted to him by the Lord. Thus, the whole diocese of Sintang – that is the priests, religious man and woman, and laity should look at his shepherd with the eyes of Jesus himself.
Unfortunately, in Christian communities, this vision of faith is lacking, so that the purely human vision prevails. Regarding the appointment of the bishops, often what is considered is his origin, his ethnic; whether a bishop is a diocesan priest or religious, what is his academic background and his ministry, what is his strength and weakness, which is real or falsely attributed to him… meanwhile a bishop should be seen with the eyes of Jesus, that is through faith, while it is acknowledged that this person – with all his personal weaknesses – is Jesus the Good Shepherd who leads us. And if we see with the eyes of faith, then surely many difficulties and division can be overcame, so that we can be more united to work together for the Kingdom of God.
2. If we look with "the eyes of Jesus" himself, through faith, then who is a bishop? The answer to this question is quite wide, because the meaning of bishop is related to various different elements. But for me, especially by reminding the recent liturgical celebration, that is the Solemnity of St. Joseph, the one who "is entrusted to head the holy family to protect" the Son of God became man, I would like to invite you to reflect on a bishop as a father.
Since the early Church, Christian faith has affirmed paternal element of a bishop; for example, St. Ignatius, Bishop of Antioch, said that the bishop represents "the Father of Jesus Christ, the bishop of all humankind" (ad Trall. 3:1). St. Francis of Assisi, who is held in high esteem by this new bishop, also regard the bishop as "father and master for all souls of the sheepfold entrusted to him" (Fonti Francescane, 1562).
Therefore, when our brother will be asked about "his intention to keep the faith and assume his ministry", he will also be asked to be a father with these words: "Are you willing to nourish all holy people of God with fatherly love… ?"
So, the vision of faith from a bishop should make him to look at himself in relation with the community entrusted to him, he should regard himself and act as a father; and also the community should look at its bishop and regard him as his own father.
But what does it mean for a bishop to be a father? What is the consequence? For Christian community, what does it mean to look at a bishop as a father?
If we see carefully in the various societies around the world, we can conclude that in this age the father-figure is in crisis, especially in the West, meanwhile in other culture fatherhood is exercised in a too authoritarian way. Therefore, to find again the authentic face of a father, we should look at our Father who are in Heaven, from whom "all paternity in heaven and earth is named" (Ef 3:15). From this Heavenly Father we learn that fatherhood is not a permissive attitude or exercising too much control over his children; he should combine truth with love; the true fatherhood should use patience, encouragement, and correction.
Of course, for a bishop it is not easy to live the fatherhood of God himself in all his perfection, namely the fatherhood that harmonize all attitudes that is often consider as contradiction with each other. But we should not forget that for a bishop, the sacrament of Holy Orders is the inexhaustible source of light and strength to be a true representative of "the Father of Jesus Christ" for the faithful entrusted to him.
3. Someone becomes a father when he has a son. A bishop too becomes a father because God and the Church entrusted a family to him and also the children that he should know, love, nurture, guide, protect, and correct…
This children is the members of the Church, indeed, because salvation is offered to all man, a bishop should be responsible also for those who have not yet become a member of Catholic Church, for those who does not trust in Christ as Son of God, or even for those who do not believe in God. A bishop wishes to embrace all man, guides them to become the children of God in the family that is the Church. That is why the fatherhood of bishop bears within itself an everlasting restlessness for evangelization. And for this reason, a bishop should be a father who embraces all, each person with his own characteristics without unjust exclusion.
At the same time, as a father, a bishop should give special attention to certain groups of his children.
On the one hand, primarily he should be a father for his priests, whom are his children and participate in the mission of his fatherhood. And of course without them, it will be very difficult duty to take care of all his children! As Pope Francis said to certain group of bishop: "Do not forget that the Bishop's closest neighbour is the presbyter. Each presbyter must feel the closeness of his Bishop" (Address, 9 September 2016).
On the other hand, a bishop should be pater pauperum, namely a father for the poor. Immediately the new bishop will be asked: "Are you willing, in the name of the Lord, to be generous and merciful to the poor and all the people who need comfort and help?" As we had already reflected on the Year of Mercy, to practice the work of mercy, we should not reduce human needs into mere material need. Let us always remember that the poor also has spiritual need and that the people who are not poor materially often need spiritual helps. In this context, then, we should understand the term "a father for the poor".
A bishop's paternity towards everyone and each of their children has as their starting point the knowledge of them. Like Jesus, a bishop must also be able to say: "I know my sheep, and my sheep know me" (Jn 10:14). That is why a bishop must seek contact with communities and with individuals, especially with his priests. And in order to do this, he must be constantly present in the diocese and parishes and be as accessible as possible. Thus, he will be able to know his children, their characteristics, their limitations and defects, their talents, their needs, and help them grow in holiness and apostolate.
This obviously demands from a bishop the spirit of sacrifice: he should sacrifice his time, his physical, intellectual and spiritual energies, his interests, perhaps even good, but without distracting him from his pastoral assignments. Moreover, is it not the example of many fathers and mothers, who are capable of giving up everything for the good of their children? Is this not especially the example that Jesus gave us a Good Shepherd, who offered Himself totally for his sheep?
4. There is a way in which a bishop – and not just him! – can and must exercise his paternity: prayer. A bishop must be a father who prays for his Church, for all and for each of his children. The people and situations he encounters are the contents of his prayerful dialogue with God every day. With a beautiful expression, Pope Francis – recapturing the episode of Abraham interceding for Sodom and Gomorrah – says that a bishop's prayer is "the "Negotiating" with God for his people"(Address, 19.5.2014).
And a bishop's prayer for his people must correspond to the people's prayer for the one who is the common father. In short, we will sing the litany of the Saints, the invocation addressed to the heavenly Church to intercede for the pilgrim Church on earth, and in particular for the new shepherd and the people entrusted to him. The new bishop, and also all bishops, need the prayer of all the faithful, so that they can be true fathers. And prayer will help everyone and each of the members of the Church to faithfully consider their bishops and to consider them as those who represent us "the Father of Jesus Christ, bishop of all."